Welcome to The
Highline Amateur Radio Club
Highline Amateur Radio Club PO Box 852 Seahurst, WA. 98062
Email: NC7G@highlinearc.org
Home of the Highline HAM Community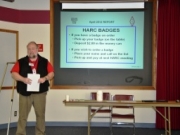 Club meetings are held on the 4th Saturday of each month. Check back here for any changes.
The general meeting is held at 10:00 AM. while the Board of Directors meets at 8:30 AM. All visitors are very welcome to attend either meeting.
If you wish to be on the agenda for the Board of Director's meeting, please advise the club Secretary no later than the Thursday before the meeting.
****************************************************
This year our HARC Christmas dinner/party will be on Thursday evening Dec 14 at the Ramada Inn, in Kent, which is adjacent to Mitzel's American Kitchen. It will be catered by Mitzels.
The address is 22330 84th Ave South, Kent, WA 98032. Phone: (253) 395-3635.
Our party will be in a room on the second floor of the Ramada Inn. The second floor is accessible by elevator. Plenty of onsite parking is available on all sides of the Ramada and behind Mitzels.
Here are the details:
Start: 5:00 PM

- Social hour and raffle ticket purchase. There will be a sign-in sheet, please sign-in yourself, and your guests.

Dinner: Served around 6:30 PM,

followed by raffle drawing then the program

Dinner: Entrees

Baron of Beef or Hazelnut Cod (please specify your choice by reply email), including grilled fresh vegetables, mashed potatoes/ rice pilaf, tossed green salad/ Rolls and Butter, Desserts: Bread pudding with Jack Daniels whiskey sauce, Caramel apple crisp with whipped cream. Coffee Service and Iced tea.

Cost: $35 per person

, you can pay at the door, however, it would be easier for the club if you could plan on paying at the next club meeting you attend.

Program: Curt Black WR5J

will present a slide show on the Pathos Lighthouse activations.

Prizes: Raffle tickets

will be sold for $1 each or 6 for $5. Prizes include (among other things), a new Yaesu FT65R and a UV3 HT.

If time permits there may be an additional presentation of the photos club members have sent in.
Please note: If you bring your own bottle of wine there will be a $5 corking fee. We will not have a bar available, but there is a bar at Mitzels next door where you can get a mixed drink.
Please email Brian W7DFO rosiebrianp (at) AOL (dot) com your dinner choice (Beef or Cod) and number of individuals in your party by Dec 8.
****************************************************
The next general meeting of the Highline Amateur Radio Club will be held on Saturday, January 27th 2018 starting at 10:00 AM at Fire Station 28, 900 SW 146th St, Burien.
The board meeting will start at 8:30 AM. If you wish to be on the agenda for the board meeting, please notify the HARC Secretary no later than Wednesday, January 24.
Program information will be provided at a later date.
*****************************************************
Attention SWAPFEST Attenders!!! Due to lack of inventory, we will not be having a Swapfest this year. We hope ot be able to have one in 2018.
HARC on Social Media
Meet us on Yahoo Groups: https://groups.yahoo.com/neo/groups/HARC-WA/info
Catch up with Facebook: https://www.facebook.com/groups/356960276978/