Welcome to The
Highline Amateur Radio Club
Highline Amateur Radio Club PO Box 852 Seahurst, WA. 98062
Email: NC7G@highlinearc.org
Home of the Highline HAM Community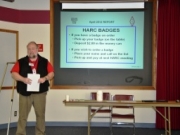 Club meetings are held on the 4th Saturday of each month. Check back here for any changes.
The general meeting is held at 10:00 AM. while the Board of Directors meets at 8:30 AM. All visitors are very welcome to attend either meeting.
If you wish to be on the agenda for the Board of Director's meeting, please advise the club Secretary no later than the Thursday before the meeting.
The next general meeting of the Highline Amateur Radio Club will be held on Saturday, October 28 starting at 10:00 AM at the new location, Fire Station 28, 900 SW 146th St, Burien.
The board meeting will start at 8:30 AM. If you wish to be on the agenda for the board meeting, please notify the HARC Secretary no later than Thursday, October 26.
The program will involve an initial introduction to the Winlink system consisting of a 20 minute video presentation followed by a discussion of Winlink's architecture and functionality. Future programs may consist of hands-on training in the use of the Winlink system.
Attention SWAPFEST Attenders!!! Due to lack of inventory, we will not be having a Swapfest this year. We hope ot be able to have one in 2018.
HARC on Social Media
Meet us on Yahoo Groups: https://groups.yahoo.com/neo/groups/HARC-WA/info
Catch up with Facebook: https://www.facebook.com/groups/356960276978/